In the past few years, the use of electrospinning for medical applications has been growing at an exponential rate. This month, our objective is to detail six applications where electrospinning is or could used by medical practitioners to improve the outcomes for their patients.
1. The market for orthopedic implants has more than doubled in the past decade. These include joint replacements - hip, knee, elbow - as well as plates for repairing fractures. It's not uncommon for an implant to cause a negative reaction in the host - such as inflammation, infection, and pain. Titanium is a common implant material due to its strength and biocompatibility. Since it's important to promote good integration of the implant material with the host tissue, new techniques are being developed for coating the implant with electrospun nanofibers. These coatings are loaded with drugs (such as antibiotics) to prevent infection. Other materials (such as PLGA) are used improve mineralization and adhesion to host tissue. Some nanofibers are biodegradable and designed to promote integration and are then later absorbed into the host tissue when their job is done.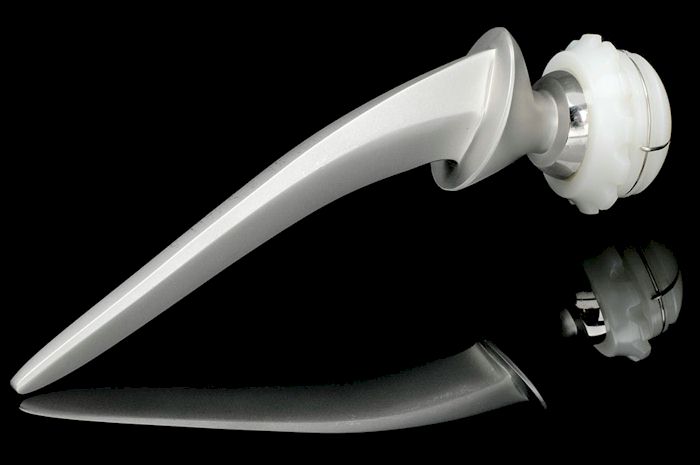 Hip Replacement Hardware
2. A process called melt electrospinning is being developed to produce engineered tissue. Since no solvents are used, fibrous structures and scaffold can be produced to replace human or animal tissue. Melt electrospinning is also being used in 3D printing to make biomedical materials. Biodegradable polymers are also being used to design man-made electrospun tissue that promotes tissue regeneration and healthy cell growth.
3. Like the electrospun coatings used on orthopedic implants, engineered tissue can also be loaded with drugs allowing for controlled drug delivery. Nanofibers are designed to be both biocompatible as well as biodegradable. Anticancer drugs have been encapsulated in electrospun fibers. The drugs are added to the polymer solution before electrospinning begins. Charged biopolymers (DNA, e.g.) can also be integrated into electrospun nanofibers.
4. A variety of electrospun mesh is being developed for wound dressings. Drugs can be made into nanoparticles which are then embedded in nanofibers used for burn and other type of wounds. The electrospun mesh offers optimal porosity and flexibility and can be made to mimic living tissue. Biocompatibility can be enhanced by embedding drugs that fight bacterial infections. Researchers at the University of Oxford (a ramé-hart customer) are developing a handheld device for producing electrospun spun mesh for use on humans.1
5. The global medical nonwoven disposables market is expected to nearly double in the next seven years, increasing from USD 6.9B today to 12.9B in 2024.2 These nonwoven products include diapers, surgical drapes and gowns, caps, masks, bandages, tapes, and wound dressing pads. Increasingly, electrospinning techniques are being used to product nonwoven materials - especially where drug delivery is desirable.
6. In addition to anticancer drugs being embedded in electrospun nanofibers that are applied to the cancerous site, electrospun nanofibers are also being used to detect cancer. Traditionally, solid tumor biopsies are used to detect circulating tumor cells (CTCs). However, new methods use less-invasive liquid biopsies to detect CTCs in the bloodstream. A new device called a NanoVelcro chip, for example, is being developed that includes an electrospun nanofiber coated with proteins that bind to CTCs for analysis.3 This technology and other liquid biopsy methods being developed offer a lower-cost and minimally invasive approach to cancer detection and progression.
Electrospinning provides a method for producing very small diameter fibers over a large surface area. A wide variety of polymers provides great flexibility in designing solutions for biomedical applications where mechanical structure is important and drugs can optionally be embedded. By using ramé-hart coaxial and triaxial needles, researchers are able to mix and match polymer materials to produce highly precise nanofibers which can be engineered and optimized for tissue replacement, cell regeneration, drug deployment, cancer detection, and other biomedical applications that are yet to be discovered.

1 For more information on the performance of portable electrospinning devices, see: https://www.ncbi.nlm.nih.gov/pubmed/25549609
2 According to an October 23, 2016 report by Global Market Insights, Inc.
3 See http://pubs.acs.org/doi/10.1021/nn5056282.