We've been making quadaxial needles for a number of years - but always on a custom basis. Recently, with an increase in interest in both our triaxial and quadaxial needles, we decided to automate the ordering prices for quadaxial needles. In addition, we now offer a prebuilt quadaxial needle.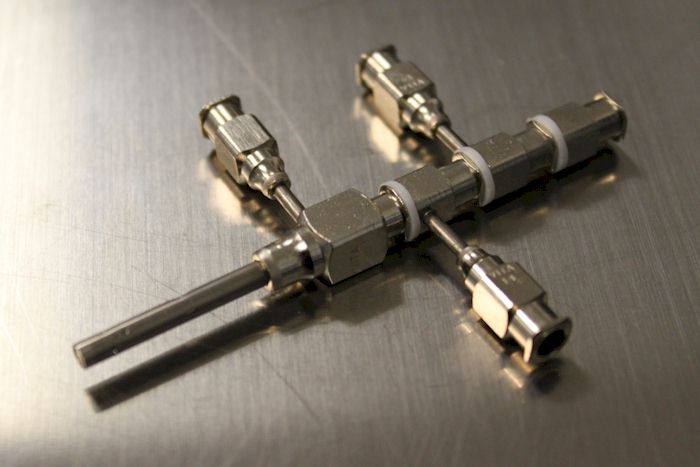 Prebuilt Quadaxial Needle p/n 100-10-QUAD-24181410
Think of a quadaxial needle as a needle in a needle in a needle in a needle. That's a lot of needles. Four unique liquids can be pumped through this device. Using electrospinning techniques, core-shell micro and nanofibers can be produced with functional materials embedded at different layers of the fiber. In electrospraying applications, bioactives, initiators, and other extracts can be encapsulated. Our quadaxial needles are currently being used in a wide variety of pharmaceutical, biomedical, tissue engineering, and filtration applications.
The prebuilt version features an inner most 24g needle followed by an 18g, 14g, and finally a 10g outermost needle. For a drawing of the prebuilt quadaxial needle (p/n 100-10-QUAD-24181410), see http://www.ramehart.com/pdf/quadaxial_prebuilt_24181410.pdf.
For more information on both the prebuilt and custom quadaxial needle, including ordering instructions, see https://www.customspinnerets.com/quadaxial.
Save $50 with the purchase of any quadaxial needle. Use the coupon below. Click here for ordering instructions.