This past month we have studied a number of spinnerets made by others - including both homemade examples as well as products from our competitors. The point of the exercise was primarily to determine what makes our product so superior with an end toward using those points to better sell our product. As a result of this process, we actually came to realize there are a number of features that we offer that really can't be found elsewhere - features that greatly enhance usability and improve performance. So, in an effort to share with you what we have learned, we're offering for your consideration ten reasons why you should consider our custom spinnerets for your electrospinning and electrospraying applications.
1. We are fast. Currently, we offer (7) differently sized prebuilt coaxial needles which we keep in stock and are available for same-day shipment.1 We now also offer (1) prebuilt triaxial needle.2 Even if your needs require a custom built coaxial or triaxial needle, our turn around time is one week or less.
2. We offer the largest array of sizes. For the needle components of both the custom coaxial and custom triaxial needle, we stock sizes from 5 gauge up to 33 gauge.3
3. We offer the greatest design flexibility. As an example of this, we offer (3) different outer flow inlet styles.4 Style A is the most popular with a straight side inlet with Luer connection. Style B permits tubing to connect directly to the needle without any fittings or couplings. Style C, while slightly more costly, is ideal for parallel syringe configurations. We can also control critical dimensions (e.g., Dim C, E, and F). We also offer a beveled tip option for special applications.
4. We use only the best materials. All of our needles are fabricated from precision Type 304 Stainless Steel tubing. The Luer hubs are chrome-plated brass. Sealing washers are made of PTFE. These materials permit high tolerance but are also easy to clean, sterilize and reuse many times.
5. Do you need something that does not conform to our worksheet?4 No problem, we make custom coaxial, triaxial, and even quadaxial needles all the time.5 Just send us a drawing or sketch or idea and there's a good chance we can make it for you.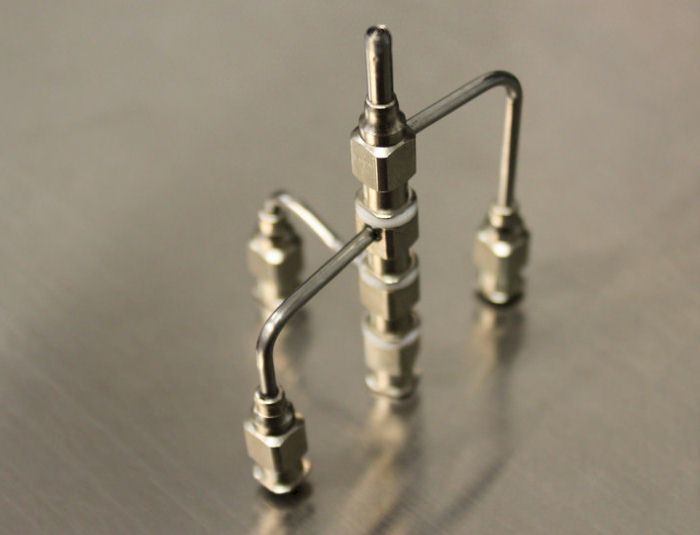 Custom Quadaxial Needle with Beveled Tip - Made to Customer Specifications
6. We don't leak. Some of our competitors use press fits. We use precision fine threads that seal. For the main connection between the inner and outer components we use a custom-made PTFE washer. All of our needles are tested prior to shipment.
7. This leads to our next point: our coaxial and triaxial needles come apart. This feature is now standard on all prebuilt and custom products. By taking the needle apart, it becomes easier to clean. Additionally, you can order a spare inner component with any custom coaxial needle. It's the inner needle that typically fails first. Upon request, we can also make different inner needles with different gauges and different lengths (See DIM C4).
8. We have experience. We opened our doors in 1961 and have been machining instrument parts and precision components for 57 years. For the past seven years we've been making coaxial and triaxial needles. During the early stages of our foray into the coaxial needle business, we consulted with many customers who are experts on electrospinning applications. We were able to develop very specific assemblies that met their exacting requirements. During this time we developed a worksheet and online ordering system that we have tweaked numerous times in order to provide maximum design flexibility and ease of purchase to our customers.
9. Our needles have excellent electrical conductivity. This feature is important in the formation of the Taylor cone as a high voltage is required to effectively repulse electrostatically the liquid and eject it from the spinneret - as shown below.

Fiber Formation by Electrospinning with Taylor Cone
10. We are the world leader in custom coaxial spinnerets. We ship to virtually every country in the world and with our powerful online ordering system and expedited processing, we can fabricate a custom needle to your exacting specifications and get it to you quickly, built right, and at a competitive price.
If you need help putting together an order or need something custom, please don't hesitate to contact us.
1 See the drawing here http://www.ramehart.com/pdf/coaxial_prebuilt.pdf. To order a prebuilt coaxial needle, go to http://www.ramehart.us/prebuilt-coaxial-needle/.
2 See the drawing here http://www.ramehart.com/pdf/triaxial_prebuilt.pdf. To order a prebuilt triaxial needle, go to http://www.ramehart.us/prebuilt-triaxial-needle/.
3 The innermost needle component for coaxial and triaxial assemblies is currently limited to 28g. Higher gauges up to 33g are available for single straight needles. See http://www.ramehart.us/straight-304-stainless-steel-reusable-dispensing-needle/.
4 For reference, our custom coaxial worksheet can be found here http://www.ramehart.com/pdf/coaxial_worksheet.pdf.
5 For a sampling of our custom-made needles, see https://www.flickr.com/photos/51015268@N07/albums/72157633621380043