Researchers are discovering the power of coaxial electrospinning to make hollow as well as core/sheath and multi-core nanofibers. By creating nanofibers using different polymers, unique characteristics of each material can be leveraged to create novel materials for myriad applications. Even non-spinnable materials such as oligomers, enzymes, metals and salts can be embedded in coaxial nanofibers in order to increase functionality. Multi-core fibers are possible using the ramé-hart Island-in-sea Spinneret. And a side-by-side configuration is also possible. See graphic below for a review a some of the fiber types that can be produced using spinnerets from ramé-hart instrument co.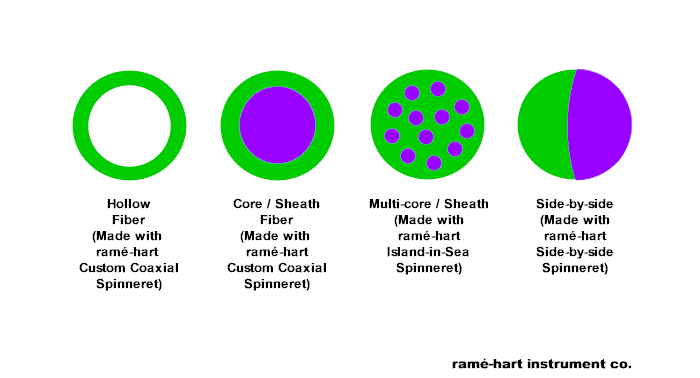 Coaxial spinnerets are also used for applications that required gas-jacketed fiber production. While a polymer flow is produced from the inner spinneret needle, a gas jacket is produced from the outer needle. This method can add more control to the electrospun fiber production, improve the evaporation of the solvent, control the viscosity better, and reduce clogging.
Hollow nanofibers can be made by injecting a gas through the inner needle of a coaxial spinneret. Hollow nanofibers can store hydrogen and are often used in nanofluidic applications. One fabrication method used to make hollow nanofibers is Chemical Vapor Deposition (CVD). However, increasingly the coaxial electrospinning method is proving to be more flexible and easier to control. A solvent is used as the core material which evaporates during the production of the fiber. Feed rate, temperature, the type of solvent, and the needle dimensions are all parameters which can be adjusted to control the diameter and the wall thickness of the hollow fiber.
The ramé-hart custom coaxial needle is especially popular in coaxial electrospinning applications for the following reasons:
- All prebuilt and custom coaxial needles are fabricated from precision Type 304 polished medical-grade stainless steel tubing.
- Standard female Luer-lock connections allow easy connectivity to syringes, adapters, and tubing. To help you further, we offer a wide array of compatible Luer couplings, connectors, and tubing kits. See them here.
- Excellent concentricity. We use a proprietary method to center the inner needle within the outer needle in order to produce excellent results.
- Each coaxial needle is hand-crafted and thoroughly inspected prior to being shipped.
- Excellent electrical conductivity. We ensure solid electrical connections between the inner and outer components and between the tubing and and hub. Likewise, all needles are checked for leaks to ensure excellent performance.
- Gauges from 5 to 28 can be used for coaxial needle designs. See our needle chart here.
- Our easy-to-follow design worksheet (see it here) makes it easy to configure any type of custom coaxial needle. If your design doesn't fit the worksheet, no problem, just send us your sketch or drawing and we'd be happy to quote you the cost. We love making special orders.
- Easy online ordering for both Custom Coaxial Needles as well as prebuilt models.
- All prebuilt and custom coaxial needles can be disassembled for easy cleaning. See instructions here. We even offer a disassembly wrench. We also offer cleaning wire kits and needle files to help you keep your liquids flowing through the needles. For custom coaxial needles, we also offer an extra inner needle option which is recommended for high gauges (e.g. 26-28g).
- To keep the inner and outer components sealed, we use a chemically-resistant PTFE sealing washer. These also available separately. See them here.
- Experience. We've hand built thousands of prebuilt and custom coaxial needles over the past decade. No one has the breadth of experience and array of machining resources and jigs necessary to fabricate custom coaxial needles like we do.
- Speed. Prebuilt coaxial needles are kept in stock and ready for immediate delivery. Custom coaxial needles can be made in one week or less. We even offer an expedite option that will get yours out the door within two business days. We ship to any address on the planet.
- Innovation. We stand behind our proprietary coaxial needle design. It's a proven winner and used by thousands of researchers for myriad applications - not just electrospinning.
- Quality. We use only the best materials. All materials are thoroughly inspected and all final products are tested and inspected before they leave our facility.
- Price. While it's not cheap to make parts by hand and customize them to precise specifications, we're proud to be the leader not only in quality but price as well. Our competitors charge four to five times as much for comparable product. Contact us if you'd like a link to the competitor's products.
- They come back. The biggest testimony we can offer is that 9 out of 10 customers of our coaxial needle products, come back with additional orders.
Visit this page for more details on our prebuilt and custom coaxial products including ordering instructions.