For us it all started with the coaxial needle. While ramé-hart has been around since 1961, it was only a decade ago that we made our first coaxial needle. One of our instrument customers contacted us about some advanced materials research and product development they were working on. Specifically, they were pioneering novel drug development technology and, after an exhaustive search, found there was no one out there that could make them a precision coaxial needle to their exact specifications. We offered to partner with them. And thus the first ramé-hart coaxial needle was born. It took two days to make and we had to scrap the first couple of attempts - but in the end we built a coaxial spinneret that worked precisely as our customer anticipated.

Within weeks we found ourselves making more of these coaxial needles - not just for our original customer but for others. We quickly learned what characteristics are most important for coaxial electrospinning applications - things like concentricity, electrical conductivity, and the ability to take the needle apart for cleaning. We worked on ways to deliver all of these features - and many more. Soon we developed a worksheet that helped our customers easily provide their specifications - needle gauges, dimensions, inlet types, etc.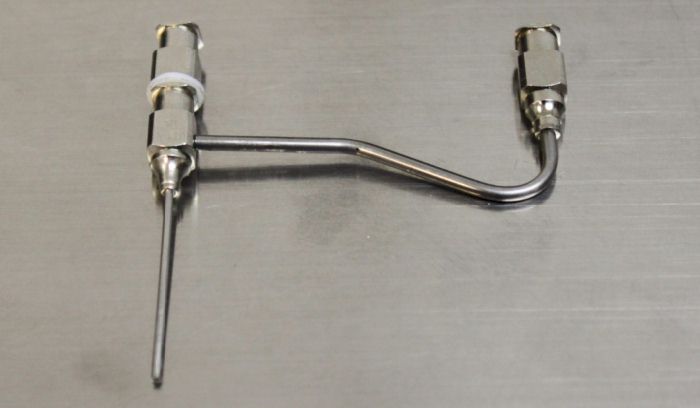 ramé-hart Custom Coaxial Needle - Style C Inlet
We soon found ourselves making triaxial and quadaxial needles. We made our first array and then we made a number of multi-lumen spinnerets. In just a couple of years after that first sale, we became the world leader in custom spinnerets. That's when we launched our www.customspinnerets.com website and made ordering streamlined and easy for our customers. We ship to every country on the globe.
For us it all started with that first coaxial needle ten years ago. Since then, we have made 1000s of coaxial needles and many 100s of other custom spinnerets, arrays, and multi-channel nozzles.
For many of our customers, the coaxial needle is a required component for their core-shell fiber electrospinning setup. For this application, two materials are dispensed to make fibers with a wide variety of properties. In drug delivery systems, for example, the drugs are typically dispensed from the inner needle while the core material acts as a sheath to control the drug release at a desired rate.
And while core-shell fiber production may be the most common application, the coaxial needle has a number of additional uses. For example, it can also be used to produce hollow fibers. Oil, solvent, or other low molecular material is used for the core and is easily removed or vaporized after the fibers are produced. In some cases, air is used as the core to produce hollow electrospun nanofibers.
Another use for the coaxial needle is electro-blowing - also called jet-electrospinning. For this application, air is forced through the outer shell to initiate and promote electrospinning of the core material. The outer flow of air forces the core liquid to stretch and overcome surface tension to flow into an elongated and very small diameter nanofiber. Electro-blowing is also used to speed up production since flow rates can be greatly increased when motivated by sufficient air pressure.

ramé-hart Custom Coaxial Needle - Special Order with 90° Bend
In other cases, we have customers who are passing a solvent through the outer needle while electrospinning the inner material. The solvent slows down the drying process and prevents clogging at the needle tip. Fibers can also be made smaller using this technique.
Even beyond electrospinning and electrospraying there are a variety of novel applications that require a coaxial needle. For example, a coaxial spinneret can be used to produce hydrogel tubular constructs that are critical to biomedical applications such as vascular grafts, engineered tissues, and manmade organs. 3D bioprinters also employ coaxial needles to produce biomaterials that may require a curing agent or catalyst.

ramé-hart Custom Coaxial Needle used for making Hydrogel Tubular Constructs
There are many more applications that employ coaxial dispensing and we are certain that there will be many more applications and methods that have yet to be developed in the years to come. Rest assured that we will be here to provide the world's best coaxial spinneret. If we can help you with a coaxial needle - prebuilt, custom, or special order - please don't hesitate to reach out to us.