Visit our website at www.customspinnerets.com
The Spinneret
Spring 2020

A ramé-hart Newsletter devoted to Coaxial, Triaxial, Quadaxial and Custom
Spinnerets used for Electrospinning, Bioprinting and Related Applications

Electrospinning is a powerful technique for producing fibers by using an electrical force to draw small diameter threads from polymer solutions. The process is fairly simple and has been refined extensively in the past decade or two. Electrospun fibers are used extensively in myriad applications - from medical to filtration, cosmetics, nonwoven textiles, and more.

While electrospinning is a suitable process for fiber production, the usefulness of the fibers can be greatly amplified by using different materials in a process called coaxial electrospinning. When two immiscible liquids are supplied via two different dispensing syringes to a coaxial spinneret, a core-shell nanofiber can be produced.

In order to successfully make core-shell fibers, the coaxial spinneret must exhibit a number of characteristics. Here is the checklist:
Excellent electrical conductivity. Our ramé-hart prebuilt and custom coaxial needles are fabricated from premium polished Type 304 Stainless Steel which is welded to Luer hubs for excellent conductivity. The inner component and outer component are sealed with a PTFE washer. However, under the washer the two components are joined using metal-to-metal contact for excellent conductivity throughout the entire spinneret assembly.

Optimal connectivity. All of our spinnerets feature the industry-standard female Luer lock interface. Coaxial needles can be connected directly to a syringe with a male Luer lock connection or can be connected via our PTFE Tubing Kit. We also offer couplings for connecting to flexible tubing - such as Tygon. The custom coaxial needle can be configured so the two inlets are parallel (Style C) and at any distance required (DIM E). See worksheet here.

ramé-hart Coaxial Needle with Luer Lock Inlets
Excellent concentricity. In order to produce core-shell fibers with a uniform shell thickness, it's critical that the inner needle is concentric to the outer. We use a proprietary technique that ensures concentricity no matter what gauge tubing is used. This is a standard feature on every ramé-hart prebuilt and custom coaxial needle.

ramé-hart Coaxial Needle with Excellent Concentricity
Easy to clean. All of our prebuilt and custom spinnerets can be disassembled for cleaning. The image below shows how easy to take apart a ramé-hart coaxial needle. We offer a wrench to facilitate this as well as cleaning wire kits and needle files.

ramé-hart Coaxial Needle Disassembly Instructions
Dimensional flexibility. While our prebuilt coaxial needles are preconfigured for the most popular settings, our custom coaxial needles can be highly optimized. DIM C, for example, allows the inner needle to be precisely positioned beyond, inside, or flush with the outer needle as required by your unique application. You can also control the needle length (DIM F) and side inlet (Style A, B, C, and DIM E).

ramé-hart Custom Coaxial Needle Worksheet (click to enlarge)
Long life. All ramé-hart spinnerets are designed for hundreds of uses. In order to maximize your investment, we offer replacement PTFE Washers which can wear out and become compressed after many uses. We also offer additional inner needle components as they tend to wear out first.

Gauge flexibility. We offer needles from 5g to 33g. Coaxial needles can be made from sizes 5g to 28g which are all kept in stock. Even gauges are available in longer lengths than odd. For inside and outside diameter dimensions, check out our needle chart.

Ease of ordering. We've tried to make it as easy and flexible as possible to order a custom spinneret. To get started with a coaxial spinneret, start on this page. We accept credit card, bank wire, and other forms of payment. We can ship to any address on the planet earth.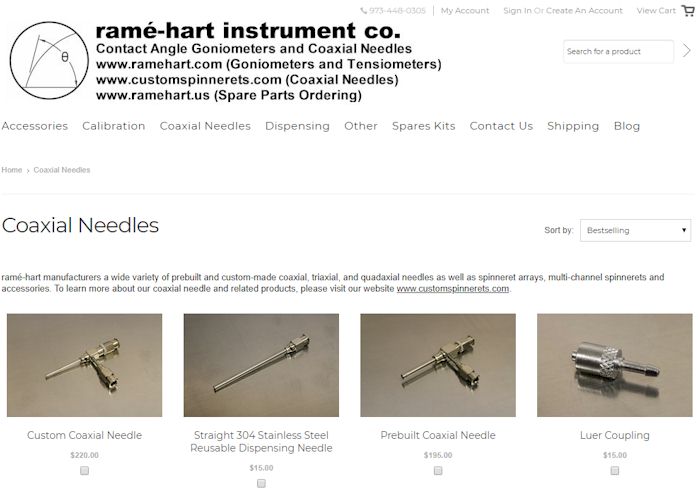 Online Ordering for ramé-hart Coaxial Needles (click here to go to the store)


Availability. We keep all prebuilt spinnerets in stock and ready for immediate shipment. Custom spinnerets are made and shipped within one week. We even offer an expedite option if you're in a rush.
Quality. Each spinneret product is flushed and tested for leaks and flow. Each dimension and feature is also inspected prior to shipment.

Warranty. We warranty all spinneret products for one year. Fewer than 1% of our spinnerets are returned for warranty repair or replacement.

More than coaxial. We also offer prebuilt and custom triaxial and quadaxial needles as well as multi-channel and side-by-side spinnerets and spinneret arrays.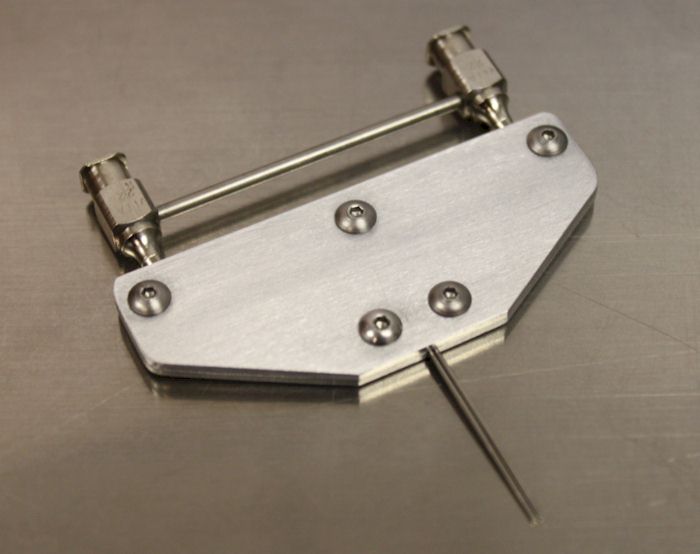 ramé-hart Side-by-side Spinneret
Beveled Tip Option. There are some applications which work best if the tip of the needle is beveled. This option is available on custom coaxial, triaxial, and quadaxial needles.

ramé-hart Custom Triaxial Needle with Optional Beveled Tip
Imitated but peerless. Imitation is the ultimate form of flattery. There are a couple of vendors in China and India who have attempted to copy our proprietary coaxial needle design but their products are inferior on every point above. And while we admire the do-it-yourselfers, many have turned to us after they realized how challenging it is to make a quality coaxial spinneret that actually works.

Volume. Whether you need one, two or 100 coaxial needles, we are setup to provide you with your spinneret needs. For large volume orders, please contact us for a discounted price and lead time.
Whatever your application is, we can provide the spinneret and tubing parts. Please feel free to contact us if you have a special spinneret application that does not conform to our prebuilt or custom designs. We make all types of custom and special-order spinnerets to meet your exacting specifications.