Vanilla ice cream is, well, just okay. And orange sherbet is also okay. But when you put them together to make an orange creamsicle, you end up with a fantastic frozen dessert that is clearly superior to its parts. That same magic is what makes coaxial electrospinning such a powerful tool for producing a vast array of different types of core-sheath nanofibers. What produces the magic is the ability to mix and match properties: the core can be strong, conductive, and biofriendly while the sheath might be elastic, hydrophobic, and luminescent, for example. The combination of core and sheath materials and their respective properties is nearly unlimited.

The key to successful coaxial electrospinning is the right spinneret. Over the past decade, we at ramé-hart have built thousands of prebuilt and custom coaxial, triaxial, and quadaxial needles. In fact, no one on the planet makes more custom spinnerets than we do.

One of the key parameters that is important to understand is Dimension C (see DIM C on our Custom Coaxial Needle Worksheet). When DIM C is set to zero, the inner and outer needle tubes are flush at the terminus. While this is often desirable and the default value used on all our prebuilt spinnerets, there are times when a non-zero DIM C value is desired.


DIM C on the terminus of a coaxial spinneret

Researchers in Israel1 have proven in theory and practice that a positive DIM C value that is less than the diameter of the outer tubing can actually promote entrainment of the core material. For this reason, we often have custom coaxial needle customers who specify a small but positive value for DIM C.
When the core needle is shorter than the outer needle, DIM C is negative. This condition is also referred to as core-cut. Researchers in Korea have proven that the core-cut configuration permits optimized microfluidic flow allowing the sheath liquid to completely envelope the core solution prior to exiting the spinneret.2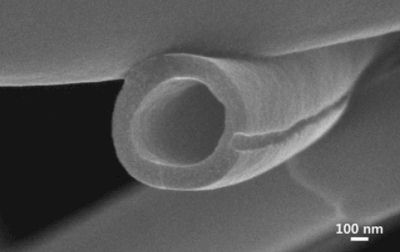 Hollow nanofiber produced with core-cut ramé-hart spinneret
Core-cut coaxial spinnerets, in many environments, will produce more robust hollow fibers than when DIM C is set to zero. In some experiments, C-shaped fibers would result when DIM C was set to zero. But when changed to core-cut, the desired tubular fiber consistently formed properly.
Whether your application calls for a positive, negative, or zero DIM C value, we can make it for you. Another valuable option is to order extra inner needles which we can set to different DIM C values for you - allowing an array of configurations for you to experiment without purchasing multiple redundant outer needle assemblies.
1 https://aip.scitation.org/doi/10.1063/1.2206747
2 https://doi.org/10.1016/j.jpowsour.2011.10.030

---