It turns out that many of our customers study surface tension in addition to contact angle and wetting properties. Fortunately, we sell a number of instruments which are both contact angle goniometers as well as tensiometers for measuring both surface and interfacial tension.1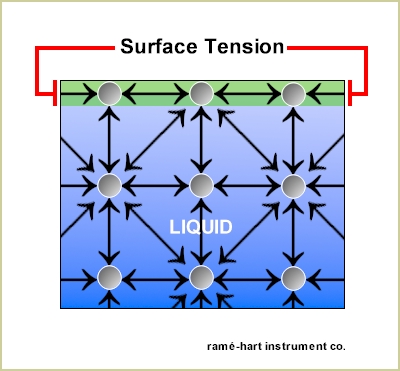 The goal of this month's newsletter is to outline just some of the reasons why people study surface tension:
Commercial Technology
Inkjet printing
Automotive applications (raincoats, wax, oil and coolant fluids)
Aerospace and aeronautics
Textiles and fabrics
Soldering methods
Self-cleaning surfaces (e.g., windows)2
Polymer surface treatments
Polymer production, blending, and adhesion
Hydrophobic mortar3
Electrowetting4
Detergents and soaps
Anti-fog coatings
Adhesion and coating development (including paints and varnishes)
Heat transfer applications
Biology
Water-repellency in nature - both plants and animals
Impact on insects and small creatures (not just the water strider)5
Biocompatibility
Marangoni propulsion
Insecticides (attach to insects but not plants)
Impact on lungs - animals and humans
Blood and biological fluids
Adhesion and de-adhesion of cells
Underwater breathing
Energy
Enhanced oil recovery (EOR) and reservoir engineering
Hydraulic fracturing (fracking)
Surface active agents (surfactants), dispersants, and emulsifiers6
Oil testing including interfacial tension (IFT)
Electrical transformer oil testing
Environmental
Raindrops, precipitation, and water flow in the above-ground biosphere
Chemical leaching and soils
Groundwater infiltration and redistribution
Dynamics in the surf zone and the swash
Lava flow and magma behavior
Medical and Pharmaceutical
Medical devices
Lab-on-a-chip technology
Microfluidic applications
Drug development (including physicochemical profiling)
Biocompatibility of implants
Contact lenses7
Lipid research (including phospholipids)
Antiseptics
Personal care products
Effects on cavitation and capillary forces on surgical procedures
Whether your application is one of those listed above or another use, if you require precise surface tension or interfacial tension measurement capabilities, please contact us today for a quotation or more information on one of our Goniometer / Tensiometers. We also offer lab services if your needs are one-time or very limited.
1 See Models 250, 260, 290, 500, 590, and 790.
2 See February 2013 Newsletter.
3 See September 2016 Newsletter.
4 See November 2013 Newsletter.
5 See December 2015 Newsletter.
6 See April 2009 Newsletter.
7 See March 2007 Newsletter.

This month's featured product is our award-winning DROPimage Advanced software. This application has been developed and optimized for use with ramé-hart instruments and is included with Models 250, 260, 290, 500, 590, and 790.

DROPimage Advanced includes tools for measuring contact angle and surface energy but also features an experiment wizard tool for creating surface tension and more complex time-dependant studies using a simple easy-to-use wizard. Editors are included for modifying the method, parameters, time, phases, and event settings. This allows you to easily tweak existing experiments without recreating them.

DROPimage Advanced supports the Automated Dispensing System, Automated Tilting Base, Oscillator, and all temperature-controlled options. To learn more about DROPimage, please view this playlist of over two dozen videos that walk through every common task that can be accomplished with DROPimage Advanced.

If you have a need for a powerful tool with these capabilities, please contact us for a quotation or more information on any of our instruments that ship with DROPimage Advanced. Note, too, that all of our other models can be upgraded to DROPimage Advanced.