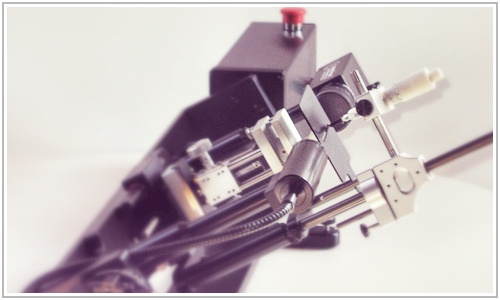 click for large view of Model 290

Model 290
Automated Goniometer / Tensiometer
with DROPimage Advanced
(p/n 290-U4)
The ramé-hart Model 290 Automated Goniometer / Tensiometer offers a powerful level of automation and a wide array of software tools. The system includes our software-driven Automated Tilting Base for measuring advancing, receding, and roll-off angles as well as contact angle hysteresis. The Automated Dispensing System, also controlled via DROPimage, is included for performing dynamic studies or adding precision and automation to the formation of pendant and sessile drops. Model 290 also includes our most capable edition of DROPimage, DROPimage Advanced with the capacity to design powerful experiments which may include drop volume and tilt control.
Model 290 includes our U4 Series 520 frames/second SuperSpeed digital camera. The fiber optic illuminator provides adjustable backlighting and each system ships with a PC and LCD to make it a complete turn-key ready-to-use instrument.
Add the optional Oscillator to measure surface dilatational elasticity or the Environmental Fixture to measure interfacial tension. Other options include the film clamps, 4" diameter wafer support, custom fixtures and specimen support options.
With DROPimage Advanced software, results can be logged and reports can be generated using myriad options. Images can be saved and high speed measurements can be taken real time up to 100 frames per second - or faster with the high-speed upgrade kit.
If you need a robust automated system that is powerful yet user-friendly, the Model 290 is well-suited for a wide array of contact angle, surface energy, surface tension, interfacial tension, wetting, roughness, absorption, spreading, cleanliness, and surface heterogeneity and characterization applications.
Every drop has many dimensions. This system is popular in research environments where a demanding system with a powerful suite of hardware and software tools permits the discovery of many quantitative surface characterizations with a high degree of automation and repeatability.
Top Options for Model 290
100-07
Environmental Chamber
100-50
Temperature Controller
100-30
Peltier Environmental Chamber
100-31
Overhead Optical Imaging Kit
100-14
Environmental Fixture
100-28
Oscillator
100-33
Heated Environmental Cell
100-33-HP
Hot Plate
100-12-U2
U2 Series SuperSpeed 750FPS Upgrade Kit