DROPimage Advanced
DROPimage Advanced measures contact angle, surface energy, surface and interfacial tension, advancing and receding contact angle, surface dilatational elasticity and viscosity and is particularly well-suited for time-dependent and dynamic studies. A methods-based experiment design tool makes DROPimage Advanced easy-to-use yet powerful in its capacity to build advanced experiments.
The drop shape method is determined by a contour fitting algorithm, and the profile coordinates are used to calculate the surface tension, contact angle and the area and volume of the drops. Calculation of surface tension is accomplished by precise mathematical analysis of the drop profile using cubic interpolation. Curves are fitted with linear polynomials using the method of least squares. The final calculations are accomplished using the theoretical profiles produced by a numerical integration of the Young-Laplace equation. The methods have been published in J. Colloid Interface Sci.
DROPimage Advanced ships with the ramé-hart Advanced Goniometer / Tensiometer (Model 500) as well as Model 250, Model 260, Model 290, Model 295, and Model 590 and is offered as an upgrade for users of DROPimage CA and DROPimage Pro.
DROPimage Advanced includes all of the tools and features that are included in in DROPimage Pro but features additional commands and tools. The following are features that are unique to DROPimage Advanced and are not part of DROPimage Pro:
Methods-based experiment design tool with wizard for easy start

The Automatic Measurement of surface and interfacial tension from sessile drops and bubbles

Automatic time controlled experiments

Support for the Automated Tilting Base option

Static and Dynamic Surface Tension measurements

Relaxation*

Oscillation with surface dilatational elasticity and viscosity calculations with support for the Oscillator option*

Image save and recalculation features

Video replay

Event and pulse-drive experiments*

Batch experiments

Constant volume or area*

Report generation

Graphing and plotting tools
Click here for a detailed description of the program's features.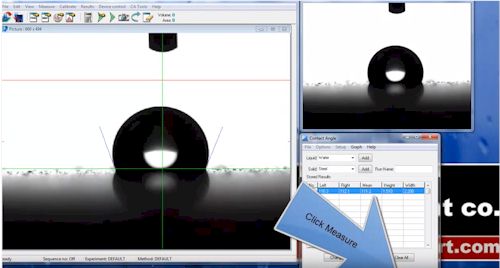 Click here to watch DROPimage Advanced Videos