Home
Instrument Products
DROPimage Software
DROPimage CA
DROPimage Pro
DROPimage Advanced
Accessories
Custom Instruments
Coaxial Needles
Technical Information
Lab Services
Newsletter Archive
Why ramé-hart?
About Us
Order Spare Parts Online
Contact Us

DROPimage CA
DROPimage CA is our entry-level software solution. This program ships standard with our Model 190 CA Goniometer and can be later upgraded to DROPimage Pro or Advanced if your requirements become more demanding. The two primary tools in DROPimage CA are the Contact Angle Tool and the Calibration Command as outlined below. Additional menus are available for: options, saving and opening images, data export, video setup, zooming, and baseline setup. DROPimage CA uses the same algorithms, video control, and methodology employed in the more advanced versions of DROPimage, but lacks the surface energy and surface tension tools.

Click here to watch an Overview of DROPimage CA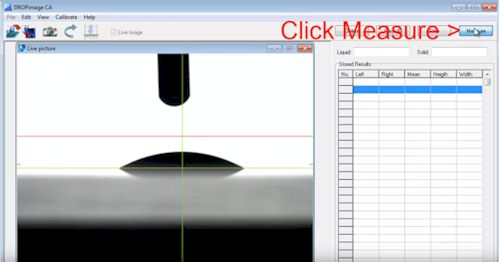 Click here to watch the DROPimage CA Playlist of Videos

| | |
| --- | --- |
| | Contact Angle Tool |
| | The Contact Angle Tool characterizes the behavior of a liquid on a solid. When a small volume of liquid is placed in contact with a solid surface, a sessile drop forms. When equilibrium is established, there is a liquid-solid interface between the two phases. The tangent angle between solid and liquid is known as the contact angle. DROPimage CA is well suited for testing on hydrophilic as well as hydrophobic materials. |
Calibration Command
When the instrument is shipped, the system is fully calibrated. However, it is recommended that the instrument be calibrated after installation. The Calibration command uses a ball with a precise diameter to calibrate the magnification of the camera, resulting in 100% accurate readings. All ramé-hart systems ship with a proprietary calibration tool so calibration can easily be performed by the customer at any time.

For additional information including a brochure and pictures on Model 190, visit this page.